People ask me all the time what makes you different from all the other photographers. WOW! Way to put me on the spot. But seriously, this is a great question, one that i've become very comfortable answering. Before I was a photographer I was an artist, i'm not only there to just expose and capture whatever it is you are doing (generally standing their awkwardly 🙂 ). EVERY single detail has been thought through. I'm there not only as your photographer but as your art director! Here is the process I go through in order to create a successful engagement photoshoot.
Step 1 – Lets Getting Familiar:
Once you book me I will ask you to connect with me on social media platforms like IG and Facebook. I do this so that I can study (stalk) you and your life style. I want to know your personality, what lingo you use, what you wear, what you look like without makeup, and what your favorite selfies are. Weird? Right! But it helps me depict you and your relationship accurately.  Getting familiar with one another is crucial for a successful shoot. Heck, lets become friends!
Step 2- Picking a Location
Many clients come to me with a location in mind but more clients come to me needing advice on locations for their engagement session.  If you have a location in mind, generally it's a sentimental place for you and your fiance.  Either way, that's great! When I'm not shooting, editing or blogging… i'm location scouting! I love suggesting locations to my clients, typically these locations are quite surprising.  For instance, the location below is in Balboa park! If your'e local to San Diego your mouth may have just dropped. A big part of being a photographer is having access to unique and undiscovered locations. After all, I want your engagement session to be unique.  I once made a bride and groom stand in an alley next to a pile of crates and dumpsters. At first they were hesitant, but after seeing the play back on my camera they agreed to continue shooting. Those very bridal photos ended up being their favorites from the album. Locations can be surprising, sometimes light quality can exceed appealing ocean backdrops. 

Step 3- Style:
Having a well curated shoot makes things go much smoother. I'm curious what your outfits will be, this helps me with picking a location to suit both your outfits and my style of work. How will your hair be? What mood are we going for? By sending me your Pinterest Board i'm able to glance it over and get an understanding of your desired "vibe". If i'm not wild about your outfit choices don't take it personally, there is always a good reason why I may suggest something else. My taste tends to be more simplistic, crazy patterns and logos are likely to compete with our background elements and take away from body language. Details like watches and jewelry can either add to the overall shoot or become clunky and distracting. I always encourage you to bring options so that we can take a look at what you have brought and weed through what will benefit the shoot and what will distract. I'm here to help you art direct and curate the entire planning process.
Step 4- Activity:
Activities are a great way to break up a shoot and get some creative & candid shots. The activity is usually grabbing a drink, beer or coffee, you choose! This gives me an opportunity to capture you in a natural environment doing something with the person you love. You become distracted by the activity and forget i'm there (this is important). When you receive the gallery it adds a little edge to standing in a field and looking pretty.
As you can see in the photographs below, Jackie and Derek brought their favorite beer and cracked one open during our session. These simple activities can really add to the shoot.
window shopping in downtown
grabbing ice cream
peeling an orange
having a picnic
Riding bikes
buying flowers at a pop up stand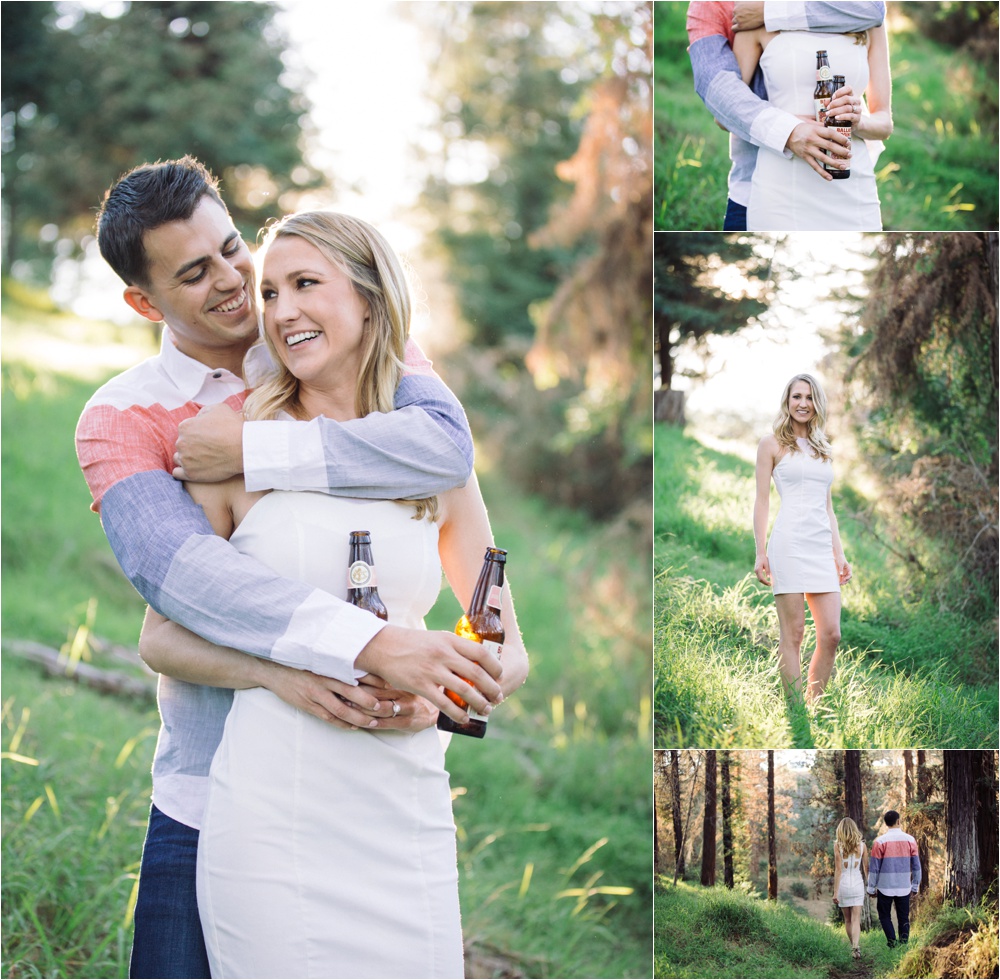 Step 5- Posing:
Posing EEEKK! If you have ever seen me in front of a camera you know it's quite funny. It's terrifying to step in front of a lens and get your photograph taken.  After all I am stealing your soul! This is why it's important for us to get familiar (in step 1). I know how intimidating it feels to get photographed, and I always keep that feeling in mind. If there is one thing i'm good at, it's getting comfortable with you both REALLY quick. I have tactics that warm you up and get you feeling like yourself. When it comes to posing I always keep in mind that i'm a story teller above all else. The way I pose you allows you to unravel organically. This gives me the perfect mixture of candid style photographs and editorial style photographs. To me this is what really makes me stand out amongst other photographers. I set you up so that you look your best but wait for organic moments before I take the picture. I attend a wedding photography conference in Las Vegas every year. Each year I focus my studies on posing for the female form.